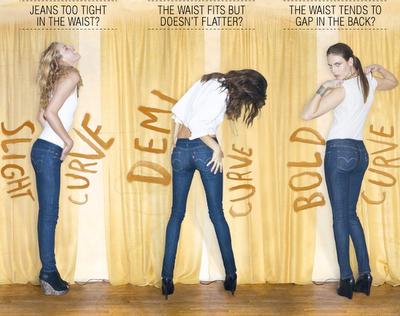 It's maybe the time for a little revolution in democratic fashion?
Levi's is launching a jeans line called Curve's ID: they're intorducing "a new revolutionary custom fit system based on shape, not size".
This seems to be a genius idea…
They distinguish between Slight, Demi and Bold Curve, you can see how it works in this video.
Forse stiamo assistendo ad una piccola rivoluzione nella moda democratica?
Levi's sta lanciando una linea di jeans chiamata
Curves ID
che introduce una vestibilità personalizzata basata sulla forma e non sulla taglia. Sembrerebbe proprio un'idea geniale…
La linea distingue tra Slight, Demi e Bold Curve ovvero curve poco pronunciate, intermedie o importanti, ecco spiegato il concetto in questo video.
They identificated this 3 main body shapes that seems to suit most of the women. I'm kinda liking this mentality.
Gli stilisti hanno identificato queste 3 principali "forme" che sembrano identificare la maggioranza delle donne: un bel passo avanti!
They worked on fabric, tailoring and pocket's positiong too: I always, really always!, look at these details when I'm buying a pair of trousers because they really make the difference.
How many times I simply looked awful with a pair of jeans because the back pockets were too spaced for my big bum?
And how many times the fabric was too hard and squeezed my hips?
Si sono soffermati anche sui tessuti da usare e sul posizionamento delle tasche: il designer sembra avermi letto nel pensiero perché io guardo sempre a questi piccoli ma fondamentali particolari.
Quante volte stavo da schifo con un paio di pantaloni perchè le tasche posteriori troppo spaziate faceva sembrare il mio sederotto più grosso del dovuto?
E quante volte il jeans rigido mi strizzava i fianchi?
Insomma, finché non vedremo questa nuova linea nei negozi non potremo certo giudicare, ma pare che qualche passino avanti si stia facendo…
My only concern is about the promotional pics I've found on Style.it. Look at the
images gallery
!
They chose the usual thin models, and this is not in line with the concept.
If you're talking about different shapes in my opinion, even if not directly, you're talking about different weights too…
I think that it could be more appropriate choosing more women to demostrate, they could select like 20 girls, maybe from differents ethnic groups, to show them all together in pics: it could be really convincing that the system really works for everyone.
How are they thinking this images of thin, tall girls can convince me that these jeans will fit my curvy body?
And you? Are you convinced by this campaign?
Please leave a comments in the section below and make me happy!
L'unica nota negativa per me sta nella campagna pubblicitaria, ovvero in quel poco che ho visto… Siamo seri, guardate la
galleria d'immagini su Style.it
! Hanno scelto le solite modelle magrissime e questo mi pare poco in linea con il concept…
Io avrei sicuramente messo insieme un gruppo di ragazze tutte evidentemente diverse, magari di diversi gruppi etnici e le avrei fotografate tutte insieme in modo da mostrare che questa linea si adatta davvero a tutti. Perché quando si parla di forme differenti, secondo me, si parla anche di pesi differenti, anche se in modo non diretto.
Loro invece hanno messo le solite sirene altissime e statuarie in pose plastiche molto d'effetto ma poco utili per mostrarci le differenze tra i vari tagli.
Come fanno delle immagini simili a convincermi che quei jeans potrebbero finalmente stare bene anche sul mio generoso bacino?
Vi convince questa campagna o è uno specchietto per le allodole?
Lasciate pure un commento nell'apposita sezione, ci tengo!
Olivia